Amateur Scissors
featuring
Sara Liz
SVDL-544
The pictures above are from the full photo gallery which you can download in one zip file.
There are 92 pictures in the full photo gallery.
Video Description
---
Tall and lean is gorgeous 5'10" Sara Liz with legs that seem to go on forever! She's a ballerina who's auditioning for a new show called 'So You Wanna Be a Professional' but soon reveals the truth to the producer that she's not an amateur as required by the rules. He tells her she's going to have to find another skill to get on the show because professionals are not allowed but she will need his assistance first. She tells him to sit down in front of her chair and that's when this long-legged ballerina wraps her knife-like thighs around his throat and introduces him to her 'Amateur Scissors' instead! One of the definitions for the word 'amateur' is "somebody who does something for pleasure rather than payment..." and watching Sara Liz lick her lips while nearly cutting the producer in half with her thighs proves that she's an amateur for sure! Watch as she puts her long legs to good scissoring use wrapping him up in rib-crushing figure-4's around his body while sarcastically whispering in his ear..."wuz-a-matter...poor baby can't get out of my legs...?". This is one audition Sara Liz is having fun with and demands that the producer let her on the show to demonstrate her scissor skills to the world but of course she'll need another assistant to help her do so. Anyone interested in being Sara Liz's next assistant!?
---
Click the thumbnail below to view the preview clip!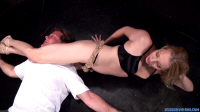 Full Download Video Statistics - HD Video

Compression Format:
Window Media Video 9

Video Length:

35 minutes

Encoded Bitrate:

3000Kbps
Aspect Ratio
16:9 Widescreen

Default Video Size:

1280x720
Total file size = 797 MB
The photo gallery/screen captures are in a zip file. Click the link below for video instructions on how to open a zip file.
All models were at least 18 years old when they were photographed.
---
All ScissorVixens content is protected by U.S. and International copyright laws. Any unauthorized duplication and distribution is strictly prohibited!
Copyright ScissorVixens.com 2004-2022