Megan Avalon's Savage Scissors!
featuring
Megan Avalon
SVDL-510
The pictures above are from the full photo gallery which you can download in one zip file.
There are 109 pictures in the full photo gallery.
Video Description
---
When you look at Megan Avalon's beautiful, angelic face you doubt there can be anything SAVAGE about her. Her bleach blonde hair, piercing blue eyes and perfect smooth tan skin make her look like a Barbie Doll, with muscles, come to life but playing with this doll can be dangerous! Once you get past her blinding beauty and check out the rest of her body you soon realize this blonde fitness bombshell has the muscle to scissor you most savagely! Megan Avalon has been athletic her whole life, growing up playing many different sports, including learning how to wrestle thanks to her brothers who participated in the sport. And now she's training hard to learn the art of Jui-Jitsu to go along with learning the art of destroying men with her 24-inch quads of skull-crushing power! Our ScissorVixens Savage Scissors series videos are always a hit so we try to produce them whenever we feel we have the right girl for the job and Megan Avalon certainly fulfills that role to savage perfection!
---
Click the thumbnail below to view the preview clip!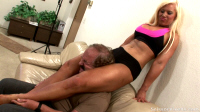 Full Download Video Statistics - HD Video

Compression Format:
Window Media Video 9

Video Length:

18 minutes

Encoded Bitrate:

3000Kbps
Aspect Ratio
16:9 Widescreen

Default Video Size:

1280x720
Total file size = 419 MB
All models were at least 18 years old when they were photographed.
---
All ScissorVixens content is protected by U.S. and International copyright laws. Any unauthorized duplication and distribution is strictly prohibited!
Copyright ScissorVixens.com 2004-2022