Flat Screen Scissors
featuring
Killer Kadence
SVDL-507
The pictures above are from the full photo gallery which you can download in one zip file.
There are 53 pictures in the full photo gallery.
Video Description
---
Drew's not too happy yelling at his girlfriend, Kadence, for messing up their hotel reservations by not getting a room with a high definition flat screen TV. He wants to watch the football game in HD but after pissing off Kadence what he's about to watch are her killer dancer thighs flattening his fat head instead! "You like things flat baby...how about I flatten you instead!?" she growls powering down on a head scissors that nearly tears his head off of his shoulders! He pleads and begs for her to stop but she's having way too much fun now. She loves the sensation of his vibrating neck against her 'sensitive spot' caused by his gurgles and screams every time she pours on the pressure. At one point she nearly strangles him to death, ignoring his frantic tapouts, as she tightens her leggy noose around his neck pumping and grinding herself to near ecstasy. In the end she decides to watch what she wants on TV forcing her helpless man to watch as well all the while trapped in her steel thighs!
---
Click the thumbnail below to view the preview clip!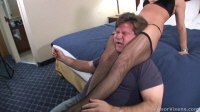 Full Download Video Statistics - HD Video

Compression Format:
Window Media Video 9

Video Length:

30 minutes

Encoded Bitrate:

3000Kbps
Aspect Ratio
16:9 Widescreen

Default Video Size:

1280x720
Total file size = 663 MB
All models were at least 18 years old when they were photographed.
---
All ScissorVixens content is protected by U.S. and International copyright laws. Any unauthorized duplication and distribution is strictly prohibited!
Copyright ScissorVixens.com 2004-2022