Communication Breakdown
featuring
Angelina
SVDL-504
The pictures above are from the full photo gallery which you can download in one zip file.
There are 144 pictures in the full photo gallery.
Video Description
---
When a man calls the hotel lobby to complain that his room didn't come with a coffee maker and microwave as he requested...they send Angelina up to resolve the issue. The athletic blonde Czech hottie doesn't speak much English but does her best to calm the irate man down. But instead he grows angry at her inability to understand what he's saying and tells her that there seems to be a 'Communication Breakdown' and to go get someone else who speaks English. Although she doesn't speak English very well she understands it much better and tells him in her sexy Czech accent..."Communication breakdown?..I will show you Communication breakdown!". And breaking him down she does using her powerful thighs crushing him senseless and even knocking him out cold (for real!) in a reverse headscissors resulting in one of the most vicious knockouts we've ever recorded here at ScissorVixens.com! At one point he calls her a 'crazy bitch' while trapped in a front headscissors but that's not what she wanted to hear and demands that he tell her how sexy she is. In the end she forces him to call the front desk to tell them everything has been resolved and after he complies she gives him one last 'Communication Breakdown' squeeeeeeze!
---
Click the thumbnail below to view the preview clip!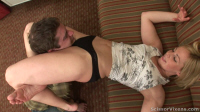 Full Download Video Statistics - HD Video

Compression Format:
Window Media Video 9

Video Length:

30 minutes

Encoded Bitrate:

3000Kbps
Aspect Ratio
16:9 Widescreen

Default Video Size:

1280x720
Total file size = 699 MB
All models were at least 18 years old when they were photographed.
---
All ScissorVixens content is protected by U.S. and International copyright laws. Any unauthorized duplication and distribution is strictly prohibited!
Copyright ScissorVixens.com 2004-2022