Scissor Sleeper Cell
featuring
Gem
SVDL-503
The pictures above are from the full photo gallery which you can download in one zip file.
There are 64 pictures in the full photo gallery.
Video Description
---
Drew and Gem are secret agents hot on the trail of a group of terrorists, known as a 'sleeper cell', who are waiting for their trigger instructions to strike. But there's a problem and Drew is about to confront it head on as he accuses agent Gem of working for the enemy and shows her a secret document to prove it. She quickly realizes Drew has the 'goods' on her and after he threatens to turn her in...she realizes she has only one thing left to do and introduces him to what she calls the 'Scissor Sleeper Cell'! "It's the end of the road for you Drew!" she proclaims as she grabs his head and pulls it in between her big, powerful thighs in the first of many torturous scissor holds. Agent Gem continues applying one killer scissor hold after the other reminding Drew that this is the last day of his life. He pleads and begs her not to kill him telling her that he's got a wife and kids but she could care less and tells him to "Look at me...I want to see you in your last moments of life!" while nearly strangling him to death in a front headscissors. In the end she goes to her signature move...the reverse headscissors and slowly applies a lethal dose of crushing scissor pressure to finally finish him off!
---
Click the thumbnail below to view the preview clip!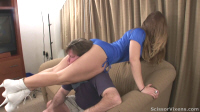 Full Download Video Statistics - HD Video

Compression Format:
Window Media Video 9

Video Length:

29 minutes

Encoded Bitrate:

3000Kbps
Aspect Ratio
16:9 Widescreen

Default Video Size:

1280x720
Total file size = 649 MB
All models were at least 18 years old when they were photographed.
---
All ScissorVixens content is protected by U.S. and International copyright laws. Any unauthorized duplication and distribution is strictly prohibited!
Copyright ScissorVixens.com 2004-2022