Lethal Legged Interrogation
featuring
Ms. Bijou Steal
SVDL-502
The pictures above are from the full photo gallery which you can download in one zip file.
There are 154 pictures in the full photo gallery.
Video Description
---
Lethal Legs is her code name and scissoring to complete destruction is her game, and one she plays to a deadly degree in "Lethal Legged Interrogation." This poor bastard doesn't know what hit him as Lethal Legs powerful limbs embrace and engulf him, crushing him to screaming submission, over and over, in some of the most eye-popping, thigh-throbbing head scissors on record at ScissorVixens! Her thighs are long and lean and fit quite nicely - and unfortunately for her victims - around the sides of their necks, making knockouts all but inevitable! She has those ruggedly muscled dancer's legs of sinew and steel and calves that explode beneath her soft, smooth skin and make figure fours all the more deadly. But it is her reverse head scissors that do the most damage, her exquisitely delicate glutes powering into action in some of the most incredible, sexy flexing you will ever see as she lays him to waste in her reverses, taking his breath and blood away, reducing him to a whimpering, sobbing pile of emasculated man! In the end, she does him in and cares not a whit that she finds out she has the wrong man! Stay tuned for part two of this video when she works over the right one!
---
Click the thumbnail below to view the preview clip!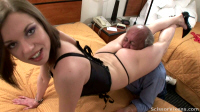 Full Download Video Statistics - HD Video

Compression Format:
Window Media Video 9

Video Length:

30 minutes

Encoded Bitrate:

3000Kbps
Aspect Ratio
16:9 Widescreen

Default Video Size:

1280x720
Total file size = 695 MB
All models were at least 18 years old when they were photographed.
---
All ScissorVixens content is protected by U.S. and International copyright laws. Any unauthorized duplication and distribution is strictly prohibited!
Copyright ScissorVixens.com 2004-2022