You're The Victim Now!
featuring
Carissa
SVDL-500
The pictures above are from the full photo gallery which you can download in one zip file.
There are 133 pictures in the full photo gallery.
Video Description
---
Gorgeous blonde bombshell model, Carissa, isn't too happy when she founds out that there won't be a second scissor video. Drew tells her that his other volunteer victim isn't going to be able to make the shoot and the first guy she just destroyed with her legs won't be able to survive another brutal scissor video with her. He tells her that means he can only pay her for one video despite the fact he promised her two videos and payment for both. Well...after driving all the way from Philly, Pa. for the shoot she tells Drew there is going to be a second video and says..."You're the victim now!". Before Drew is even able to respond Carissa calls in her agent to handle the camera and the second scissor video beatdown begins! Carissa clearly enjoys destroying poor Drew in eye-popping head scissors, neck cracking figure-4's and nearly tears his knees apart with brutal grapevines. Drew hopes that Carissa will eventually get tired after the first brutal scissor video she did but she reminds him that she's a marathon runner and can scissor the daylights out of him for the next several days if she wanted to. In the end she gets what she wants forcing Drew to sign a check for not one but two scissor videos and tells him to throw in a little extra for traveling expenses as well!
---
Click the thumbnail below to view the preview clip!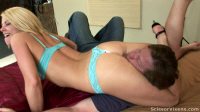 Full Download Video Statistics - HD Video

Compression Format:
Window Media Video 9

Video Length:

30 minutes

Encoded Bitrate:

3000Kbps
Aspect Ratio
16:9 Widescreen

Default Video Size:

1280x720
Total file size = 688 MB
All models were at least 18 years old when they were photographed.
---
All ScissorVixens content is protected by U.S. and International copyright laws. Any unauthorized duplication and distribution is strictly prohibited!
Copyright ScissorVixens.com 2004-2022