Merry Scissoring Maid
featuring
Naomi
SVDL-498
The pictures above are from the full photo gallery which you can download in one zip file.
There are 149 pictures in the full photo gallery.
Video Description
---
Gorgeous dark-haired Italian Naomi makes her ScissorVixen video debut playing the role of a sexy 'Merry Maid' scantily clad in an alluring red see-through lingerie outfit there to sweep the floors of a man who doesn't like to follow the rules. She turns around and catches him taking pictures and reminds him that isn't allowed. She goes back to sweeping the floor and once again...catches him snapping off more shots. It's clear this guy isn't going to follow the rules and after putting the sweeper down she tells him that what he really needs is a 'Merry Scissoring Maid' and decides to sweep the floor, and the rest of his apartment, with his head tightly scissored between her big, powerful thighs! She loves adding plenty of verbal abuse to go along with her crushing scissors calling him a pussy and wimp adding to his humiliation. In the end she knocks him out cold saying..."Nighty-night, sleep tight, don't let the scissors bite!".
---
Click the thumbnail below to view the preview clip!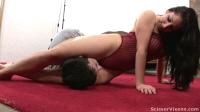 Full Download Video Statistics - HD Video

Compression Format:
Window Media Video 9

Video Length:

30 minutes

Encoded Bitrate:

3000Kbps
Aspect Ratio
16:9 Widescreen

Default Video Size:

1280x720
Total file size = 698 MB
All models were at least 18 years old when they were photographed.
---
All ScissorVixens content is protected by U.S. and International copyright laws. Any unauthorized duplication and distribution is strictly prohibited!
Copyright ScissorVixens.com 2004-2022