Home Invasion Crush
featuring
Angel Lee
SVDL-497
The pictures above are from the full photo gallery which you can download in one zip file.
There are 151 pictures in the full photo gallery.
Video Description
---
Angel Lee, a muscular little blonde, is asleep in her bed when a thug breaks in and roots around her stuff. Waking up, she invites him to her bed - and then puts her meaty, powerful thighs to his guts in the first of countless man-eating scissors! Angel looks stunning in her next to nothing clothes and applies literally stunning scissors to this poor bastard, her powerful thighs locking tight and hard, pulling him deep into her crotch and just about popping his head off his shoulders! She destroys him in the bed, pulls him to a futon for more scissor fun and then kicks his sorry ass into her scissor room for more wide-open punishment! She is a non-stop scissor machine, and her reverse scissors, using her rock-hard glutes, will leave you as breathless as her poor victim! Angel Lee is one gal whose home you do NOT want to invade!
---
Click the thumbnail below to view the preview clip!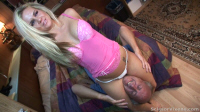 Full Download Video Statistics - HD Video

Compression Format:
Window Media Video 9

Video Length:

30 minutes

Encoded Bitrate:

3000Kbps
Aspect Ratio
16:9 Widescreen

Default Video Size:

1280x720
Total file size = 687 MB
All models were at least 18 years old when they were photographed.
---
All ScissorVixens content is protected by U.S. and International copyright laws. Any unauthorized duplication and distribution is strictly prohibited!
Copyright ScissorVixens.com 2004-2022