Spam Folder Scissors
featuring
Mariah
SVDL-496
The pictures above are from the full photo gallery which you can download in one zip file.
There are 154 pictures in the full photo gallery.
Video Description
---
In 'Spam Folder Scissors' gorgeous exotic dancer, Mariah, plays a woman who discovers all of the e-mails she has been sending her boyfriend were intentionally deleted by him when he previously claimed they were getting lost in his spam folder. She's not too happy that he would mindlessly ignore her messages and decides to send him a new message in person using her power packed dancer thighs! She pulls him in high and tight, applying extreme pressure with every scissor hold, and starts to rattle off all the other things that he does to annoy her. Eye-popping front head scissors are her favorite as she clearly enjoys the erotic vibrating sensation she gets with his neck pressed up against her pussy while causing him to gurgle in pain every time she pours on the pressure. She also applies a few other torturous leg holds like neck-snapping figure-4's, rib crushing bodyscissors and smothering reverse headscissors that nearly knock him out cold! In the end she makes him promise to never delete any of her messages again and gives him one last killer squeeze to make sure this time he gets her 'Spam Folder Scissors' message!
---
Click the thumbnail below to view the preview clip!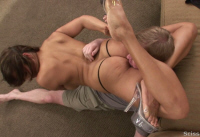 Full Download Video Statistics - HD Video

Compression Format:
Window Media Video 9

Video Length:

30 minutes

Encoded Bitrate:

3000Kbps
Aspect Ratio
16:9 Widescreen

Default Video Size:

1280x720
Total file size = 686 MB
All models were at least 18 years old when they were photographed.
---
All ScissorVixens content is protected by U.S. and International copyright laws. Any unauthorized duplication and distribution is strictly prohibited!
Copyright ScissorVixens.com 2004-2022