Sucker For Scissors
featuring
Wenona
SVDL-494
The pictures above are from the full photo gallery which you can download in one zip file.
There are 71 pictures in the full photo gallery.
Video Description
---
Drew and his friend, Wenona, find themselves stranded in a hotel while trying to find a nearby car repair shop to fix their broken down car. While Drew is busy looking through the yellow pages Wenona is keeping herself entertained by stretching her long, limber legs but can't seem to stretch quite as much as she'd like. Pulling her legs wide open in a sexy leg split she entices Drew to give her a hand telling him she needs his help to stretch her legs even wider. Drew climbs up on the bed and grabs her ankles in an attempt to pull her legs wider but Wenona has other ideas and reaches out and grabs Drew's head pulling him into a murderous front head scissors! "What a sucker!" Wenona mockingly calls Drew as once again...he has fallen for her scissor trap. Wearing only a sexy white thong and topless she works Drew over in all kinds of torturous head scissors pulling him in as deep as possible and squeezing him with 100% effort. It's clear that Wenona is having a lot of fun often giggling and smiling while poor Drew is fighting for his life. And just when Drew thought things couldn't possibly get any worse...Wenona nearly severs his head from his body with some of the most vicious front figure-4 leg locks you will ever see! She generates maximum throat-busting pressure by tucking one muscular calve underneath his chin and into his throat and arching her body completely off of the bed causing him to gurgle in agony and gasp for even the slightest bit of oxygen but getting none! In the end Drew proves that he's a real 'Sucker For Scissors' as he falls prey to Wenona's sexy thighs once again!
---
Click the thumbnail below to view the preview clip!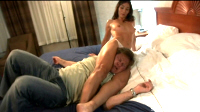 Full Download Video Statistics - HD Video

Compression Format:
Window Media Video 9

Video Length:

30 minutes

Encoded Bitrate:

1500Kbps
Aspect Ratio
16:9 Widescreen

Default Video Size:

856x480
Total file size = 342 MB
All models were at least 18 years old when they were photographed.
---
All ScissorVixens content is protected by U.S. and International copyright laws. Any unauthorized duplication and distribution is strictly prohibited!
Copyright ScissorVixens.com 2004-2022