Scissor Bondage
featuring
Brittney
SVDL-489
The pictures above are from the full photo gallery which you can download in one zip file.
There are 185 pictures in the full photo gallery.
Video Description
---
Brittney is a cute little fetish model who finally grows tired of getting tied up. So when the photographer tells her that he's planning on another bondage shoot...she decides to introduce him to what she calls 'Scissor Bondage' using him as the victim instead! Brittney starts out wearing a red plaid schoolgirl skirt with a black and white striped top but after a few introductory scissors she strips down to her sexy white lingerie thong and matching bra to continue the scissoring onslaught. Her photographer isn't too thrilled about Brittney turning the tables on him making him the helpless victim, bound by her scissors, while she victoriously watches his futile attempts to escape. But Brittney is having way too much fun and decides to take him to the bed where she plans on finishing him off with more non-stop scissors and knee snapping grapevines. In the end she ties his hands behind his back leaving him completely helpless to even tap out and pours on even more pressure while he screams for mercy but gets none. Watch Brittney as she brings a whole new 'scissor twist' to the fetish world of bondage!
---
Click the thumbnail below to view the preview clip!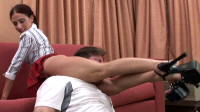 Full Download Video Statistics - HD Video

Compression Format:
Window Media Video 9

Video Length:

30 minutes

Encoded Bitrate:

3000Kbps
Aspect Ratio
16:9 Widescreen

Default Video Size:

1280x720
Total file size = 686 MB
All models were at least 18 years old when they were photographed.
---
All ScissorVixens content is protected by U.S. and International copyright laws. Any unauthorized duplication and distribution is strictly prohibited!
Copyright ScissorVixens.com 2004-2022