Scissor Tutorial
featuring
Addie
SVDL-488
The pictures above are from the full photo gallery which you can download in one zip file.
There are 102 pictures in the full photo gallery.
Video Description
---
Addie tells her best gal-pal Candle about the power of scissoring and the control it has over men, and Candle wants to see what it's all about, so Addie calls in her mom's dopey boyfriend and turns the legs loose all over his sorry ass! Addie's a little bit of a thing with a lotta power in her smooth, rocky legs and her front headscissors just about implode his skull, much to Candle's delight! Over and over, Addie destroys the moaning bitch of a man in her powerful thighs and crushing calves, with Candle laughing and encouraging her, and helping by her non-stop taunting of the purple-faced victim locked high and tight in Addie's brutally crushing thighs! In the end, Candle's ready to take what she's learned in Addie's 'Scissor Tutorial' into her own legs and put the squeeze on her own victims back home!
---
Click the thumbnail below to view the preview clip!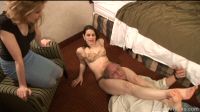 Full Download Video Statistics

Compression Format:
Window Media Video 9

Video Length:

30 minutes

Encoded Bitrate:

1500Kbps
Aspect Ratio
16:9 Widescreen

Default Video Size:

856x480
Total file size = 365 MB
All models were at least 18 years old when they were photographed.
---
All ScissorVixens content is protected by U.S. and International copyright laws. Any unauthorized duplication and distribution is strictly prohibited!
Copyright ScissorVixens.com 2004-2022