Valentine's Day Squeeze
featuring
Felicia
SVDL-484
The pictures above are from the full photo gallery which you can download in one zip file.
There are 129 pictures in the full photo gallery.
Video Description
---
Felicia, a gorgeous 6'1" tall blonde, is expecting a great Valentine's gift this year but instead gets the same lame gift her boyfriend has given her for the last 5 years...another sexy lingerie outfit he hopes she will parade around in to keep him entertained. She agrees to try it on and isn't too happy when it doesn't even fit but she knows what will fit and says to him..."Ok...now that I've tried this lingerie outfit on for size...it's time for you to try my SCISSORS on for size!". And so begins her gift to him...her 'Valentine's Day Squeeze'! Felicia's long, athletic legs (developed from years as a competitive swimmer) have no problem coiling around his skinny neck nearly popping his eyes out from the extreme python-like pressure! At one point, while sitting on the chair, she captures him in a figure-4 around his body threatening to crack his ribs while pulling his neck back causing him to cry out for mercy. She tells him..."Happy wife, happy life!" while increasing the pressure around his stomach in a murderous body scissors causing him to slump over from the lack of oxygen. On and on it goes until the end when Felicia gets her way and forces him to deliver on the Valentine's day gift he originally promised...a trip to the Caribbean while she gives him a trip to dreamland by slowly scissoring him to sleep!
---
Click the thumbnail below to view the preview clip!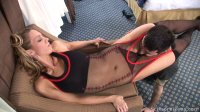 Full Download Video Statistics - HD Video

Compression Format:
Window Media Video 9

Video Length:

28 minutes

Encoded Bitrate:

3000Kbps
Aspect Ratio
16:9 Widescreen

Default Video Size:

1280x720