Sadie's First Squeeze
featuring
Sadie
SVDL-483
The pictures above are from the full photo gallery which you can download in one zip file.
There are 147 pictures in the full photo gallery.
Video Description
---
Once again we introduce another exciting new ScissorVixen in our continuing 'First Squeeze' series. Sadie is a 5'10" 160 pound exotic dancer with amazingly developed and powerful thighs she says is all genetics! And for this video...we are privileged to have one of the pioneers of the mixed wrestling scene to participate...Mr. Bill Wick himself! Bill was somewhat of a reluctant victim after seeing some of Sadie's pictures (5'10" tall, 160 pounds with CRUSHING thighs!) but stepped in and offered his neck for the 'scissor cause' after my intended victim chickened out! Watch as Bill Wick, the legend himself, gets murdered by Sadie's huge 25-inch quads and at one point near the end of the video asks me a rather silly question..."Why is it necessary for her to squeeze 100% instead of only 50% which would make the scissors last longer!?". Well...my answer to Bill Wick was..."Because that's how we do things here at ScissorVixens.com!" and I proceeded to instruct Sadie to shut him up and keep pouring on the pressure which she gladly did!

Below is Mr. Bill Wick's own recollection of what happened during 'Sadie's First Squeeze' video!
---
Click the thumbnail below to view the preview clip!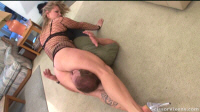 Full Download Video Statistics - HD Video

Compression Format:
Window Media Video 9

Video Length:

30 minutes

Encoded Bitrate:

3000Kbps
Aspect Ratio
16:9 Widescreen

Default Video Size:

1280x720