"Cowgirl Scissoring Boots" Preview Page
Video Description
Megan just bought a new pair of boots which her friend doesn't seem to appreciate making fun of the way they look along with her skimpy and tight jean shorts. Well...things are about to get real tight for him as Megan tells him that her new boots are her 'Cowgirl Scissoring Boots' and says..."These boots are made for scissoring...YOU!" and proceeds to do just that! Megan wraps her huge female bodybuilding quads around his neck and begins to crush the living daylights out of her friend turning his face red and causing him to gurgle in agony while begging for her to let him go. But Megan's new scissoring boots need to be broken in and what better way to break them in than by breaking her friend in between her incredibly powerful scissoring thighs!?
---
Free Preview Photos
*These photos simulate actual scenes from the video but were not taken during the live action.*
Click on a sample picture below to view.
**Note: The size of the members only pics are much larger at 1024x768**
(Save photo by right clicking large displayed photo and choosing 'save picture as'.)
---
Preview Video Clip
*The clip is taken from the actual video.*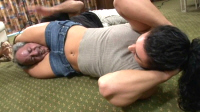 To save the video clip, right click thumbnail and choose 'save target as'.
---
Many more photos and video clips like these can be seen by joining the members area today!
---
All models were at least 18 years old when they were photographed.
---
All ScissorVixens content is protected by U.S. and International copyright laws. Any unauthorized duplication and distribution is strictly prohibited!
Copyright ScissorVixens.com 2004-2017